Are Diamonds Really Rare?
Published on Wednesday, 02 August 2023 18:13
Written by Nick Newton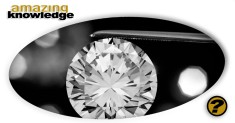 When you walk into a jewelry store and see all the diamonds in all of the various settings that are for sale, it is difficult to realize that diamonds are indeed rare. Most people don't even stop to consider how that diamond came to be sitting in that jeweler's case! There is quite a bit of work that is done before a diamond is ready to sell to the general public.